Support

StableBit Scanner

2.X

User Manual
StableBit Scanner 2.X

An innovative disk surface scanner, disk health monitor and file recovery system.
Speech
(Build 3096)

Back to Contents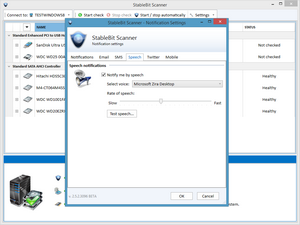 This lets you set up and customize audio speech notifications. This option does require a working audio device and speakers to function properly.
Notify me by speech

This enables the audio feedback of errors. This is powered by the Microsoft Speech API.

Select Voice

This drop down lets you select which voice you want to use out of the available options.

Rate of speech

This slider lets you determine how quickly or how slowly you want the notification to be read.

Test speech...

This button will play a randomly selected quote, so that you can hear what the voice will actually sound like.