Support

StableBit CloudDrive

1.X

User Manual
StableBit CloudDrive

A secure virtual hard drive, powered by the cloud.
OpenDrive
(Build 1051)

Back to Contents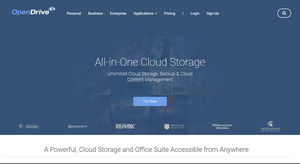 Service link: https://www.opendrive.com
Pricing: https://www.opendrive.com/pricing
OpenDrive has not passed our stringent data consistency testing and is marked as an experimental storage provider.

Use caution when using OpenDrive.
| | |
| --- | --- |
| | Please provide any payment information to the storage provider, we do not charge you anything extra for storage when you use StableBit CloudDrive. |
| | |
| --- | --- |
| | If you're having trouble connecting to this storage provider, check their service status page to see if they are experiencing issues. |
CAUTION

OpenDrive is an experimental storage provider in StableBit CloudDrive. In order to show experimental storage providers, open Options > Troubleshooting > and check Show experimental providers.

Use experimental storage providers for testing purposes only.
To connect to OpenDrive:
Click Connect... in StableBit CloudDrive.

Enter your OpenDrive User Name and Password and click Save.